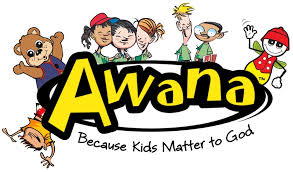 Meets Wednesday evenings 6:30-8:00 p.m. (September-May)
2017-2018 Awana school year begins September 20th.
Register HERE
Awana (derived from the first letters of Approved Workmen Are Not Ashamed as taken from 2 Timothy 2:15) is an international Evangelical nonprofit organization founded in 1950, headquartered in Steamwood, Illinois. The mission of Awana is "to help churches and parents worldwide raise children and youth to know, love and serve Christ."[1] Awana is a non-denominational program and licenses its curricula to any church willing to pay for and use the Awana materials consistent with its principles. In addition to its programs for children and teenagers, Awana has prison ministries, and a parallel curriculum for family use – the "Awana-At-Home" series.